Rich Hane came across this Pennsylvania Railroad K4 type steam engine that I saw on a recent trip to the National New York Central Railroad Museum in Elkhart, Indiana. It is built out of 421,250 toothpicks and 40 pounds of glue and is about 8 feet long. It was built by Terry Woodling of Warsaw, In. after 7 years of labor.
The brakes, wheels, siderods, and windows all move. Mr Woodling has, also, built an 8ft. DC3, a Lear jet, a touring motorcycle, and a Huey helicopter and hopes to build a stagecoach.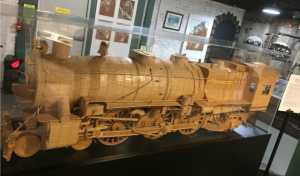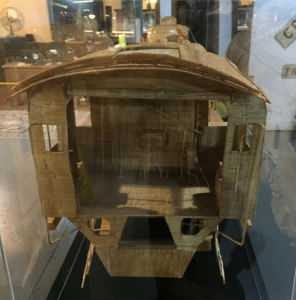 This is what 5.5 inches of super-elevation on a moderately tight curve looks like from ground level! The Northern Pacific's eastbound Mainstreeter leans into a the curve at Peak, North Dakota, while passing a freight cooling its heels in the siding.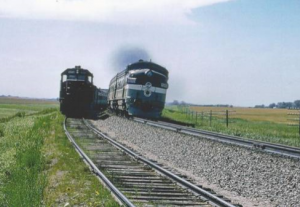 65 miles per hour was the speed restriction for this track segment. Though six inches was NP's maximum curve elevation, good engineering called for a half inch less here, because 65 MPH, the highest speed to be accommodated, was very near equilibrium (balanced) speed for that elevation.
The siding's curve, where much lower speeds occur (only 15 – 20 mph), is elevated only a half inch. Engine crews learned to honor this 65-mph limit. In 1960 the crack streamliner North Coast Limited was going a little fast around this curve when the flanges of the lead locomotive tried to climb the outside rail, nearly derailing the passenger train.
This was back in the days of "clickety-clack" jointed rail in 39 foot lengths. The sun angle provides good clarity of the bolted rail. Why 39'… you ask.? Old habits are hard to break, and in the really early days 39 foot rails fit nicely on a forty foot flat car. Today's welded rail is toted around in quarter mile or longer lengths.
Submitted by Gary O. Ostlund
Credits: Pix by Wilbur R. Shannon, text excerpts from the Northern Pacific Railway Historical Association calendar, May 2016.