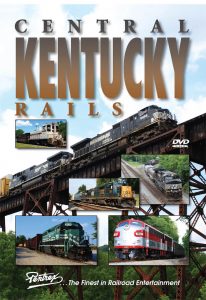 The following is the description that is included on the DVD case for this video, Central Kentucky Rails.  I will let that suffice for a list of the highlights pertinent to this production and I will add my comments afterwards.
Kentucky is known as the Bluegrass State and there is so much to see and enjoy. With state-of-the-art camera equipment, our crews have traveled throughout much of the central part of Kentucky searching for the wide variety of incredible action that can be found here. CSX and Norfolk Southern are the major players in this region and plenty of heavy-duty action was filmed from both railroads. In addition, the regional RJ Corman Railroad is highlighted, including their dinner train powered by classic FP7s. We caught everything from ground-shaking ballast trains to the more commonly found auto, manifest, & intermodal freights that polish the rails daily. It's always an incredible sight to watch new CSX power in La Grange trundling down the middle of a downtown street right past 130 year old buildings! Long steel trestles are common too and we caught several trains crossing these impressive structures. The Paducah & Louisville was captured performing switching duties. Some of Union Pacific's SD90MAC locomotives found a new home on the Norfolk Southern and we caught some of them in action for you to enjoy. We finish our exciting program chasing trains from 2 different operating train museums in the area. Shot in the late spring of 2015, this is one show you don't want to miss. This is Central Kentucky Rails!
Pentrex once set the standard for RR videos but in my opinion their quality has been surpassed by several newcomers in the industry.  Most new RR video products are coming out in wide screen format, which is a far superior way to present the action than is the old fashioned full screen mode, but this one still uses the 4:3 aspect ratio.  That is strike one against this video.
The image quality is only "average" and that is not so much a matter of Pentrex quality declining; it is a case of the competition getting better.
The use of maps in this video is a joke.  A plain blue background with black lines representing the route and black dots representing the towns constitute the "maps" used.  It is like using stick figures to represent people.
Another disappointment to me was that we did not get a view of the inside of the RJ Corman Dinner Train.  It would have been nice to see what the dining car looked like from the passenger perspective.
| | |
| --- | --- |
| Title | Central Kentucky Rails |
| Producer | Pentrex |
| Format | DVD |
| Playing Time | 2 hrs. |
| Purchased From | Pentrex.com |
| Date Purchased | 4/19/16 |
| Price Paid | $29.95 + $6.00 shipping |